San Jose Arriba
Global Brigades Panama
Gatu, Veraguas, Panama, 2009 (Incomplete)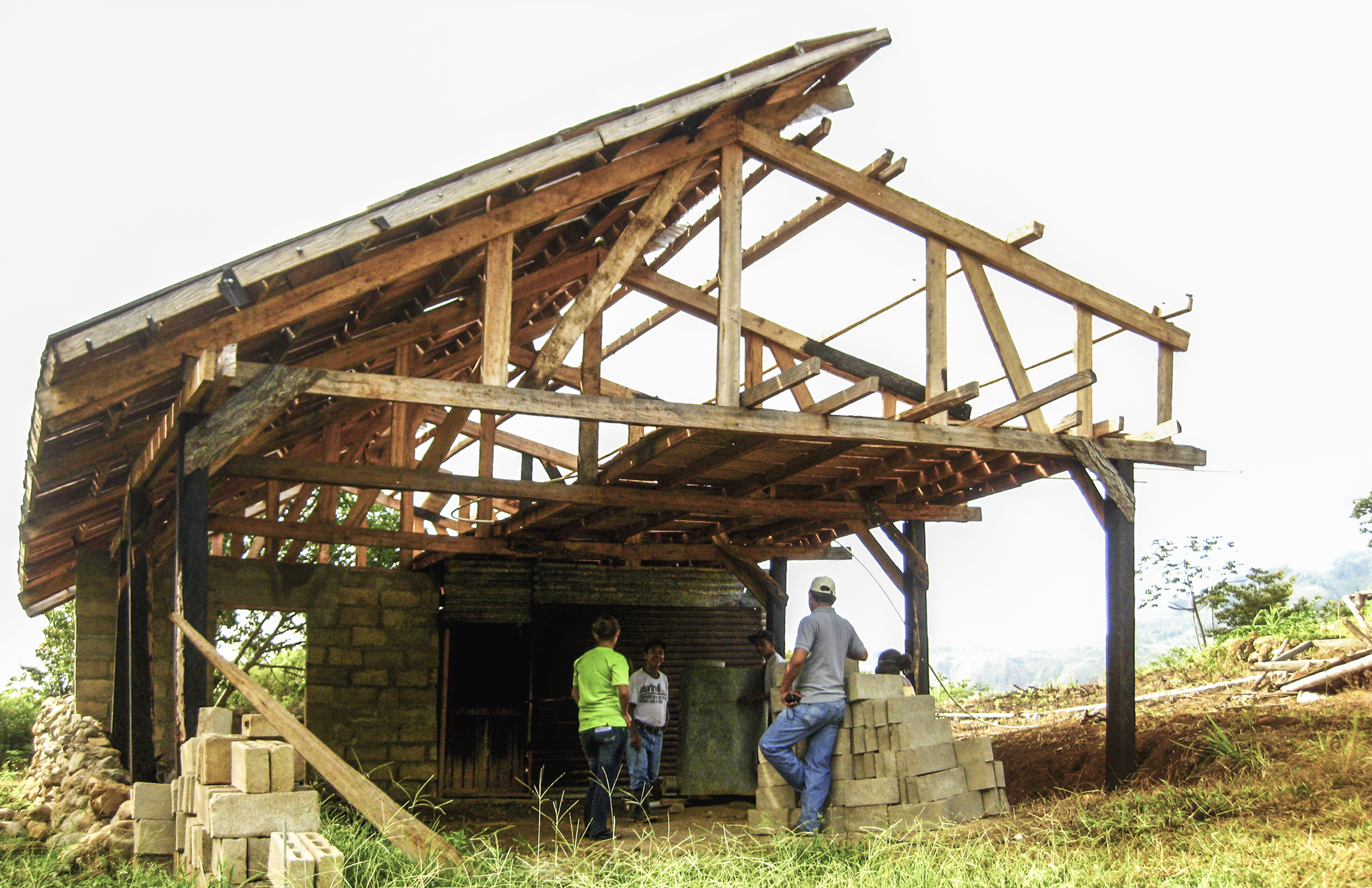 Granja San Jose Arriba is a cooperative farm operated by four partners in the remote town of Gatu, Veraguas, Panama, over forty kilometers from the nearest paved road.





The four hectare farm yields corn, beans, guandu, tomatoes, cabbage, peppers, onions, yucca, and plantains, as well as fish and chicken, providing sustenance for nearly thirty people.





Since 2007, serious winds have hit the farms of Gatu, destroying crops and ruining structures. In addition to eliminating San Jose Arriba's entire yield in 2007 and 2008, these winds leveled the farm's meeting ranch, tool shed, grain dryer, dorm, kitchen, and pig pen.





As a solution, the partners and their families, GAB volunteers from the University of Southern California, and I designed and began construction on this work space, which includes a meeting space, tool shed, grain solar dryer and silo, kitchen, and one-person dorm.





Ideally, the structure will be sturdy enough to survive the harsh seasonal storms, and will allow Granja San Jose Arriba to increase its production to the point of profitability.





Volunteers from the University of Southern California studied the site and its terrain, learned local agricultural and construction techniques, and researched available natural resources to help develop a building scheme that was strong, inexpensive, and quick and easy to build.





Five months later, after extensive fund-raising and planning, the volunteers and I returned to Granja San Jose Arriba to assist in the construction of the structure over five days with the farm's partners and their sons. The process was quite a learning experience for everyone involved, as neither the students, nor the farmers, nor I, had ever built something of this complexity.





The quality and ease of construction increased daily as the builders learned their roles and the necessary construction techniques, and the final product was structurally robust and a drastic improvement over the original structures.





With the exception of the addition of zinc roofing sheets to the north roof, no further progress was made on the work space after the brigade, due to logistical difficulties, insufficient funds, disagreements within the farm, and a lack of support from a partner organization. Nonetheless, as of the last follow-up, the structure was in use and fully integrated into the daily activities of Granja San Jose Arriba.